Following an exciting yet gentle industry rebound, 2023 is billed as the year to book those genuinely unforgettable experiences in far-flung and exotic destinations that dreams are made of. To help travellers choose where to go and which trip of a lifetime to take, Anantara Hotels, Resorts and Spas have created a wish list of
Following an exciting yet gentle industry rebound, 2023 is billed as the year to book those genuinely unforgettable experiences in far-flung and exotic destinations that dreams are made of. To help travellers choose where to go and which trip of a lifetime to take, Anantara Hotels, Resorts and Spas have created a wish list of 23 awe-inspiring adventures for 2023, from surfing in Sri Lanka, snorkelling with sharks in the Maldives, dining in the ancient temples of Angkor to zooming around the streets of Rome by Vespa.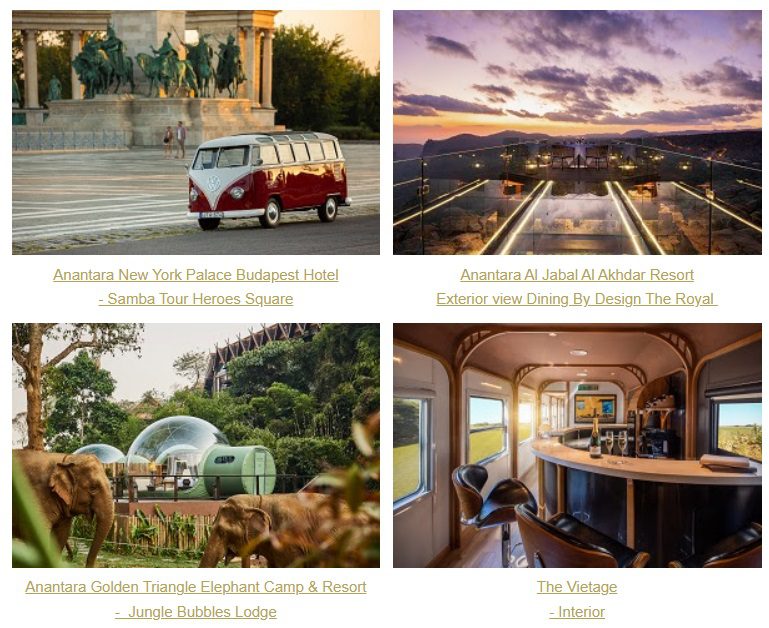 Dine in a hidden Angkor temple.
At Anantara Angkor Resort in Cambodia, dinner is served in the heart of an ancient civilisation, in the central sanctuary of a heritage Angkor Wat temple hidden among a lush jungle, with nothing but stars and carefully restored ancient statuary for company.
Meet local tribes in China.
On Yunnan's southernmost border with Myanmar and Laos, guests at Anantara Xishuangbanna Resort in China can trek into the mountains to meet the locals in the Dai Tribe villages.
Anantara New York Palace Budapest Hotel offers culture chasers a chance to explore the historically mesmerising city of Budapest in a vintage Volkswagen Samba Convertible.
Soothe with sound therapy in Bali.
As people crave more connection to nature and self-care trips increase, Anantara has curated experiences to soothe the soul, including sound therapy sessions in the tranquil Indonesian jungle at the soon-to-be-opened Anantara Bali Ubud Resort.
Take a cool dip in Dublin.
Guests staying at The Marker Dublin Hotel, joining the Anantara portfolio this spring, can take a refreshingly cool dip in the Dún Laoghaire Baths, which reopened after a 25-year hiatus—a newly designed an area that includes a pavilion, cafe, artists' studios, changing area and beach garden.
Discover Rome's secret passageways by Vespa.
Anantara Palazzo Naiadi Rome Hotel invites guests to explore the city's artistic charm and tantalising flavours in an iconic Vespa sidecar, zipping through cobbled alleys like Audrey Hepburn and Gregory Peck.
Cruise through the mangroves of the Belungkor Forest.
The resident naturalist at Anantara Desaru Coast Resort in Malaysia takes guests on the hunt to spot hermit crabs, Asian water monitors, oriental garden lizards, geckos, dusky leaf monkeys, and so much more.
Snorkel with sharks and manta rays in the Maldives.
Head out on the Indian Ocean from Anantara Dhigu Maldives Resort in search of shy nurse sharks gathered in their dozens at Vaavu Atoll, or from Anantara Kihavah Maldives Villas, visit world-renowned Hanifaru Bay, part of the Baa Atoll Biosphere Reserve, to swim with majestic manta rays, gentle giants of the ocean.
Rum tasting in Mauritius.
In the southeastern corner of Mauritius, Anantara Iko Mauritius Resort brings together the best local culture and history in a luxe setting. Hike in the lush La Vallée de Ferney, testing out Le Rhumerie De Chamarel – a rum distillery that still cultivates sugarcane.
Whale spotting in Mozambique.
Between July and September, guests at Anantara Bazaruto Island Resort have the rare and incredible chance to take a trip to spot the humpback whale during their annual migration.
Cruise the canals in Amsterdam.
Enjoy a sumptuous breakfast aboard a private boat as the team at Anantara Grand Hotel Krasnapolsky Amsterdam take you on a city sights tour along the famed Amsterdam canals.
Feel on top of the world at Diana's Point.
At Anantara Al Jabal Al Akhdar Resort in Oman, guests can try out their yoga moves or take in the awe-inspiring views from the top of the Green Mountain at Diana's Point, the viewing platform where Princess Diana once stood.
Play a round on the Portugal Masters golf course.
Golf enthusiasts can spend their days on the Victoria Golf Course whilst staying at Anantara Vilamoura Algarve Resort. Wake up with one of Europe's finest golf courses right on your doorstep, and play a few rounds in the privileged location where the Portugal Masters is held every year.
Experience Qatar after the FIFA World Cup.
Whilst staying at the exclusive Banana Island Resort Doha by Anantara or the newly opened The Plaza Doha by Anantara, guests can enjoy some of the numerous world-class museums that have opened in the city, visit the spectacular stadiums, or explore the desert dunes and the Inland Sea.
Perhaps the dream is to do nothing in paradise and let every whim be catered for. At Anantara Maia Seychelles Villas, guests can rest at ease with the Beyond All Inclusive package in their private pool villa.
Stroll through Spain's picturesque olive groves.
In Andalusia's picturesque Ronda set in a deep gorge, guests at Anantara Villa Padierna Palace Benahavis Marbella Resort can marvel at the sights of the River Guadalevin, dine on tapas in the Old Town and wander through vineyards and olive groves on the way home.
Head to Sri Lanka's southern coastline, where Anantara Peace Haven Tangalle Resort offers the perfect base for those keen to catch a wave. Teaming with Australian-based boutique surf company Tropicsurf, guests have year-round access to a Surf Guru, an expertly trained professional with an intimate knowledge of the region's best breaks.
Sleep under the stars in the Golden Triangle.
There's no closer to nature than staying in one of the unique Jungle Bubbles at Anantara Golden Triangle Elephant Camp & Resort in northern Thailand, sleeping under the stars and awake to elephants gently grazing outside your private jungle haven.
Zipline over the Andaman Sea.
Anantara Layan Phuket Resort in Thailand has recently added a 400-metre-long zipline to its Layan Active Zone cliffside. Suspended 15 meters above the ground with elevated views of the spectacular Layan Beach, the zipline allows thrill-seekers to soar through the air for the ultimate adrenaline rush.
Traditional fine dining in the desert.
The delicious dining concept at Anantara Sahara Tozeur Resort & Villas in Tunisia allows guests to enter a traditional Berber tent out amid the Sahara Desert donned in woven cushions and rugs hosted by a private butler.
Surf dunes in The Empty Quarter.
In the spectacular desert of the UAE, the team at Qasr Al Sarab Desert Resort by Anantara will take guests on a dune riding adventure in the world's largest desert by camel, horse or 4×4.
Step back in time aboard a train in Vietnam.
The Vietage takes guests on a luxurious railway adventure through the lush landscapes and spectacular coastlines of Central Vietnam, linking the heritage charm of Hoi An and the sparkling shores of Quy Nhon. The Vietage combines old-world comfort, breathtaking views and gourmet dining.
Take to the skies in Zambia.
Take a helicopter flight over Victoria Falls at the Royal Livingstone Victoria Falls Zambia Hotel by Anantara and discover the natural wonder from above. Spot the sight of lush green islands, hippos, crocodiles and elephants grazing in or alongside the mighty Zambezi below.
Edited by:
Supaporn Pholrach (Joom)
=======================================